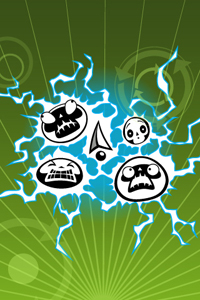 Tilt to Live has been unleashed on the unsuspecting public! So far the general vibe has been extremely positive! Adam and I are both pretty excited about getting our first app store game out the door. What's interesting is the workload went from "lull" to "overdrive" in a matter of days as we ramped up for release and still are trying to coordinate things for a bigger media push in the coming weeks.
You can download Tilt to Live in the app store here. One of the cool things about AGON Online integration is how it's easy to check leaderboards outside the game. Their community page for Tilt to Live is rather snazzy. We'll be looking into integrating some of those widgets into our own landing page on onemanleft.com. But that'll have to wait for now.
We've got plenty of ideas in store for Tilt to Live for future updates. So tell your friends, your mom, your dog, your twitter followers! The higher the rating the better! Things are rather hectic at the moment as you can probably imagine, but hopefully I'll have some breathing room and be able to look back on all of this and write up some (hopefully) useful posts.